Choosing the right newsletter design isn't easy. There's a seemingly infinite number of designs out there, each with their own strengths and weaknesses. (And in many cases, more weaknesses than strengths.) Finding the right colors, shapes, text formats and image placements can take up a huge amount of time.
But with these professionally designed newsletter templates, all you need to worry about is customizing. The designs are already in place, suggested color palettes chosen, and even some images added (though adding your own is recommended).
In the end, you'll have a fantastic-looking newsletter in less time than it will take to find a template from Microsoft Word or Publisher. Your readers will thank you.
Skyline High classroom newsletter template
This classroom newsletter template stands out from the rest with muted colors, an inspiring header image, and lots of room to share your message. Whether you're simply giving updates on what's happening or sharing important news about conferences, exams or standardized testing, your message will come across loud and clear.
Merge financial business newsletter template
The time of boring business newsletters is over. Modern companies need to grab readers' attention with bold colors, interesting shapes and arresting images. This financial business newsletter design has all of those ingredients in spades. The newspaper-style columns let you share different stories or ideas, and the header is great for recurring newsletters with featured authors.
Black Widow company newsletter template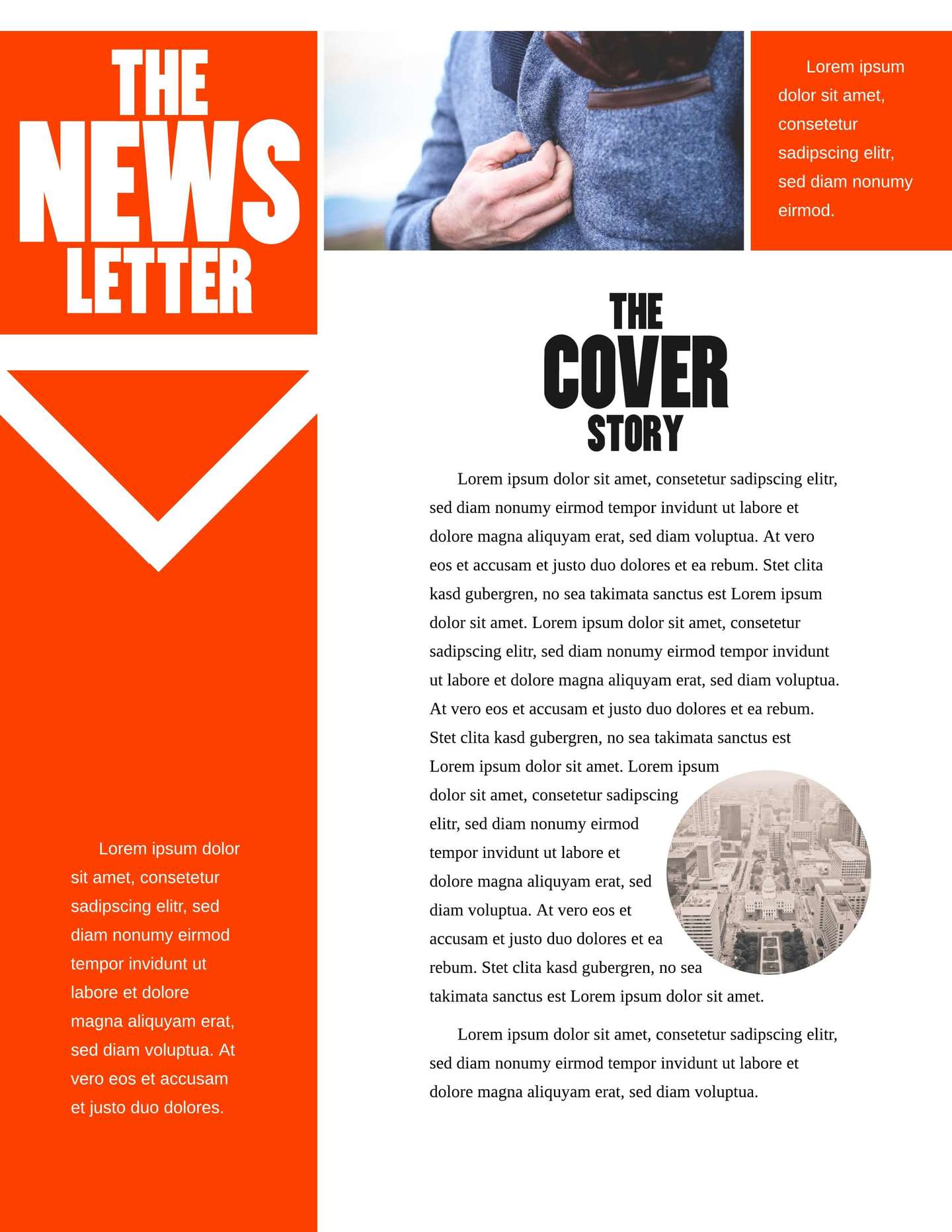 Company newsletters are often bright and airy or monochromatic and, well… boring. But this template finds a balance with bold red accents, striking blocks of black, and plenty of whitespaces to make reading easy. Add images to spice things up a bit, and you have yourself a professional—but unique—newsletter template.
Citrus Splash employee newsletter template
Employee newsletters have a reputation for being rather boring—and that starts with the template. Don't settle for bland colors and cheesy iconography! This template is full of bright colors that immediately set a positive tone for your newsletter. Whether you're in a tropical climate or a temperate one, your employees' days will be brightened by it.
Angles company newsletter template
There's something dynamic about angles in bold colors—and this newsletter template takes full advantage. A combination of bright and calm tones adds even more energy to the template. If your company is pushing forward, the vitality in this template will fit it perfectly. Plenty of room for images and multiple text sections make it as useful as it is engaging.
Orbital digital newsletter template
This template is all about creating the right feel with a big, powerful image. Whether you use one of our images or upload your own, you'll be setting the tone for your entire newsletter. It could be inspirational, topical, or just an image that speaks to you. And because this digital template has room for scrolling text, you can include as much information as you want. That makes it one of the most flexible and versatile templates out there.
A newsletter is an important point of contact. Whether you're designing one for a school, a business, another type of organization, or just for your family and friends, you want it to reflect your message. These designs give you a wide variety of looks to do just that.
Where is the Beef Media is a creative agency that specializes in Web Development, Content Creation, Mobile App Development and Graphic Design, based in Newtown Johannesburg. To find out more about our services visit www.whereisthebeef.co.za.