When it comes to video marketing, 2019 makes previous years' numbers look like chopped liver. That's according to the latest edition of Wyzowl's State of Video Marketing Survey, an annual report from the animated video studio that examines industry trends.
The survey of more than 600 marketing professionals and online consumers revealed that a whopping 87 percent of businesses are now using video as a marketing tool — a 24 percent increase from 2017 — and 81 percent consider it a good ROI. That's no coincidence, as video marketing has shown to increase website traffic, lead generation, dwell time on sites, and user understanding of products or services.
Amid these exciting findings, the survey also noted that nine in ten professionals believe that the intra-market competition has increased in the past year, making businesses feel pressured to be "heard above the noise."
There are many good reasons for that. Videos help increase traffic and sales, reduce support queries, and help users understand our products and services better.
But creating and editing videos is not as simple as writing a blog post or crafting a tweet. And it's not always cheap!
We understand that as we create many videos for social media, too. To make the work easier for you, I've compiled a list of 12 best free video editing software that'll make putting videos together easier and more affordable. (Several of them don't put a watermark on your videos!)
12 best free video editing software to create great marketing videos
1. Headliner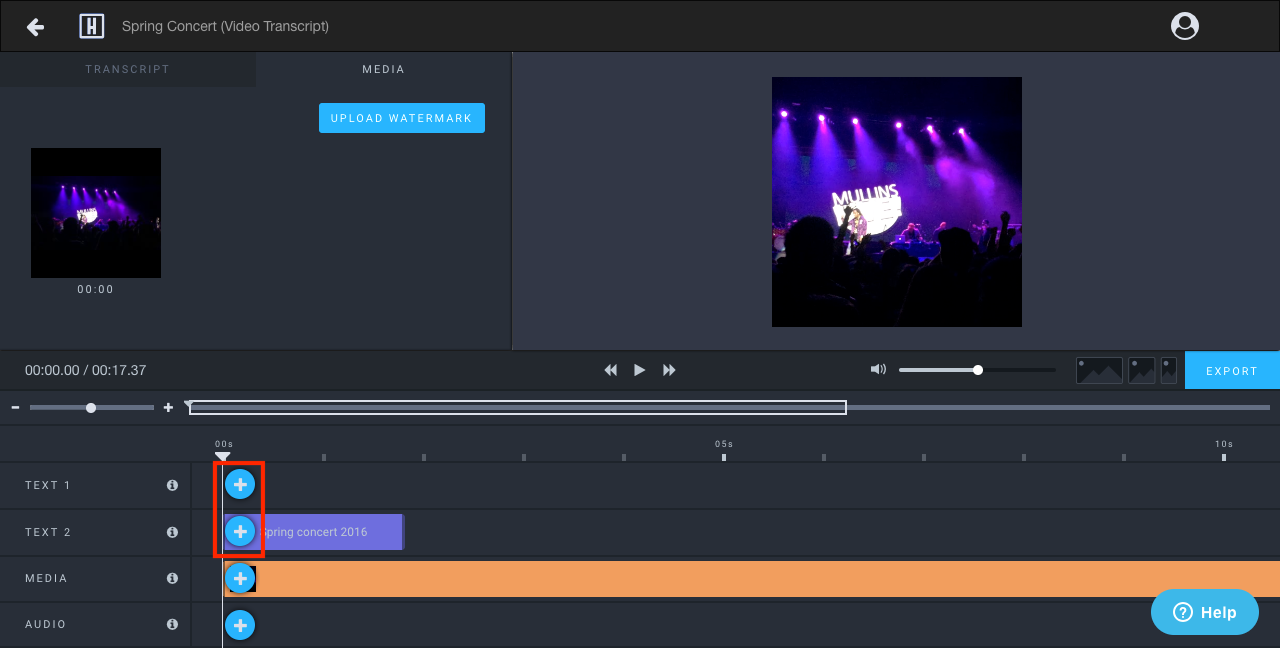 Headliner might be the easiest way to create a video with captions. (Remember that designing for sound off is key for social videos!)
With Headliner, you can upload a video and let it automatically transcribe the audio into captions or create a video simply uploading an article or an audio file. You can also upload or search for images, videos, and GIFs to be added to your video.
Bonus: The team at Headliner has a hilarious page explaining why the tool is free.
2. Clipchamp Create
Clipchamp Create is one of the most generous free online video editing tools. The free plan lets you create unlimited video projects, gives you access to all basic editing tools, and allows you to export your videos in 480p output resolution without watermark! (There'll be a watermark if you use the stock footages, which I thought is reasonable.)
You could upgrade to Premium or Business for just $9 (R 132.59) per month or $19 (R 279.91) per month respectively to gain access to their stock library and to download your videos at higher resolutions.
Clipchamp also provides a few other video tools, such as video converter, video compressor, and webcam recorder.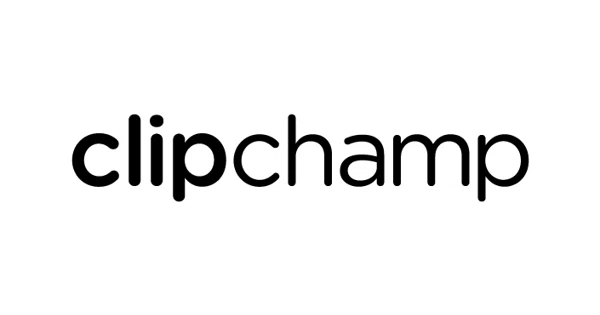 3. Quik by GoPro
GoPro has two free video editing apps for creating and sharing content from your smartphone and GoPro devices. (It doesn't have to be GoPro footage at all, and the videos created won't have any watermark!)
Quik is the simpler of the two, which aims to let you create videos with minimal effort. As GoPro stated, "it automatically analyzes your footage to find the best moments, adds beautiful transitions and effects, and syncs it all to the beat of the music." (Mindblown!)
4. Splice by GoPro
Splice is the other video editing app by GoPro. According to GoPro, Splice "puts the power of a professional desktop editor at your fingertips". You can select transition style, trim your footages, add text, change the video speed, and more. Splice also provides a huge library of free soundtracks for your videos.
5. Adobe Premiere Clip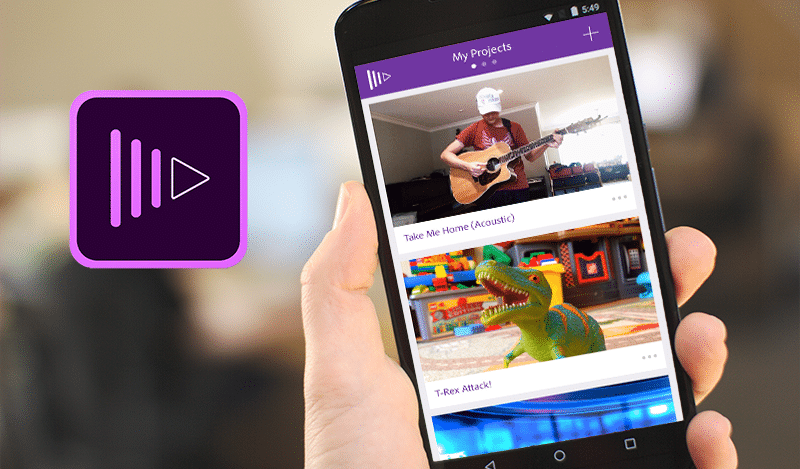 Adobe Premiere Clip is a mobile video editing app (available on both iOS and Android devices). Once you have selected your images and video clips, you can let Adobe Premiere Clip create a video for you automatically or create a highly customized video yourself. You can change the music, edit the image and video clips, add titles and transitions, and more.
If you subscribe to the Adobe Creative Cloud, this app also works with Premiere Pro CC, Lightroom, and Capture CC.
6. FilmoraGo
FilmoraGo is such a comprehensive video editor app that you might feel like you are editing your videos on your desktop. Besides the usual features such as themes, text, transitions, it also offers a range of video editing features — trim/split, ratio/crop, speed control, reverse, voice over, audio mixer, and picture-in-picture. It's amazing that FilmoraGo is free and it doesn't add a watermark or limit the length of your videos.
FilmoraGo is available on both iOS and Android devices.
7. Typito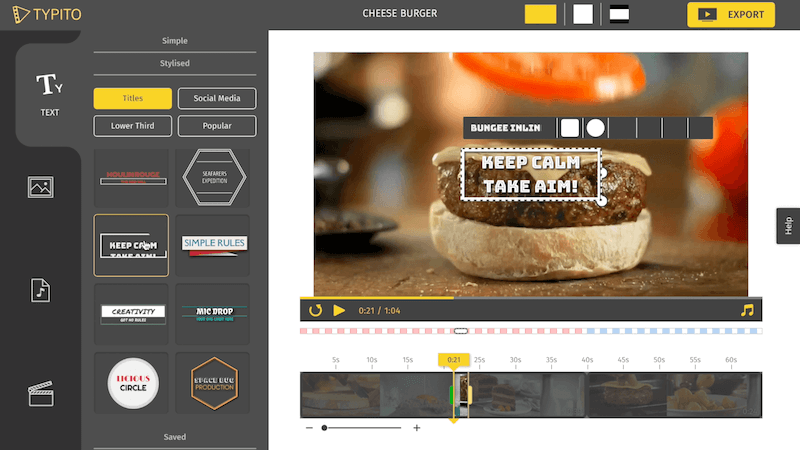 Typito is another drag-and-drop online video editor with a forever free plan (so wonderful!) An interesting unique feature Typito has is the ability to add a branded banner on your video. This will allow your audience to easily recognize your videos on social media. Typito also lets you resize your video in seven different sizes with a click.
Most video editors don't let you remove watermarks on a per-video basis but Typito lets you remove their logo from your video for $5.
8. Adobe Spark Video
Adobe Spark Video provides multiple storyboards, layouts, and themes to help you put together amazing videos. You can access all the features for free! The only catch is there will be a tiny Adobe Spark watermark in the bottom-right corner of your videos. (If you are already paying for Adobe Creative Cloud, you'll access to Adobe Spark's premium features, including removing the watermark.)
Adobe Spark Video also has an iOS app.
9. Wave.video by Animatron
Wave.video is an online drag-and-drop social media video maker. You can even resize your videos (vertical, horizontal, square) in just a click to create videos ideal for each social media platform.
On its free plan, you can create up to 10 videos and export them up to two-minute-long each in standard definition quality. The videos will have the Wave.video watermark. Also, you can upload only 10 video clips, 20 images, and 10 audio files (up to 500MB each). You could also use their stock videos, images, and audio files but they do come at an additional cost.
10. Animaker
Animaker is an online tool for creating animated videos. I might classify Animaker more as a video maker than a video editor. But it does let you upload your own images and audio files to be used in the animated videos.
On the free plan, videos will have a watermark and can only be published to YouTube or Facebook (and not be downloaded). Their paid plan starts at $19 per month.
11. iMovie
If you are a Mac user, consider giving iMovie a go. It offers many advanced video editing features, which most online video editors don't provide, for free! And with the mobile app, you can edit your videos on your Mac, iPhone, and iPad.
12. Windows Movie Maker
No worries if you are not a Mac user. Microsoft also provides a great video editing software, Movie Maker, for Windows users for free. You could also get the paid version for additional features such as slow and fast motion, unlimited photo overlay, Full HD output.
Corporate Videos have become an integral part of an organisation's communication strategy. Our corporate video services include, customer testimonials, on-location shoot, adverts, in-studio productions, live event coverage and multipurpose animations. Visit www.whereisthebeef.co.za for more information